The ARt of
Mosaic Paintng
"The desire to bring together a lifetime of experiences and learning to make something tangible, to create new art, to continue learning new skills -- it just never ceases!"
-Sharon Feldstein
Each highly detailed work of art is meticulously painted, and sometimes carved, to create a tactile piece of wall art. These richly painted pieces invite the viewer to touch the surface as well as immerse in the flow of color and shape.

Abstract landscapes, iconic characters, fauna, flora, and the human figure are all included in the collection. Sometimes there's even a touch more fun, with "hidden" elements, a sort of "I Spy" surprise!

Painter, Calligrapher, Woodworker
It's all about "The Process"
What excites me most about creating art? Experimenting with processes, inventing and innovating until I find the perfect combination of materials and techniques. I've spent fifteen years 'playing around' with wood and paint, lettering and lines. Old wood or new, it's a medium that's warm and alive. After years of improving the processes of surface preparation to final finishes and everything in between, my Mosaic Paintings are now fine craft bursting with colors, shapes and a bit of elegant whimsy.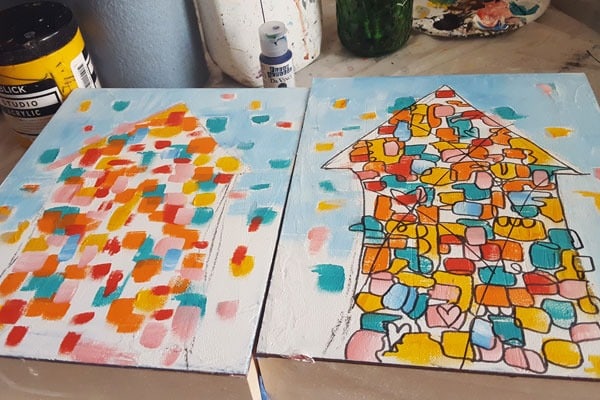 01.
The design
This is where the fun, colorful design happens. Sometimes I use shapes, like these houses, and other times it's just freeform color and the design comes later.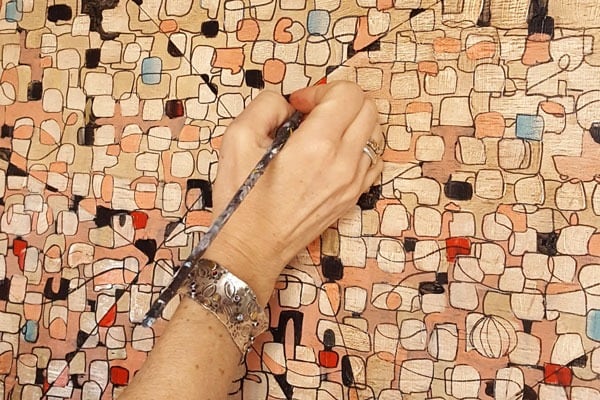 02.
Details
A small brush is used at this stage. Lots of little shapes, lines, and more lines! Sometimes a pattern forms right away, and other times it takes a little while to emerge.
Frequently, the painting is complete at this point and I protect it with a coat or two of the highest quality satin furniture-grade varnish. Othertimes, I go on to create a "carved mosaic painting"

03.
The right Tools
Using only pro-quality etching tools, I choose the one that's right for the job, depending on the type of wood, the finish that's on the wood, and what I want the end result to be.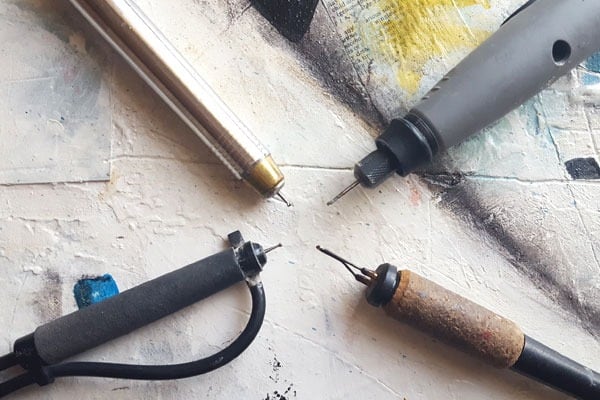 04.
Carving!
I may use my power carver. It's messy and it's loud. So I set up outside in a screened-in room, weather permitting. Other times I use a less powerful carving tool (especially if I'm carving paper, and not wood) which can be used indoors. And still other times, I use my favorite of all, the wood burner, and as long as no one is bothered by the "aroma" (aka, the smell) it's also OK indoors.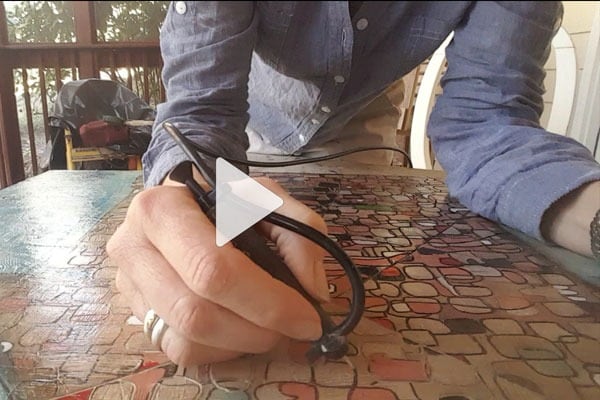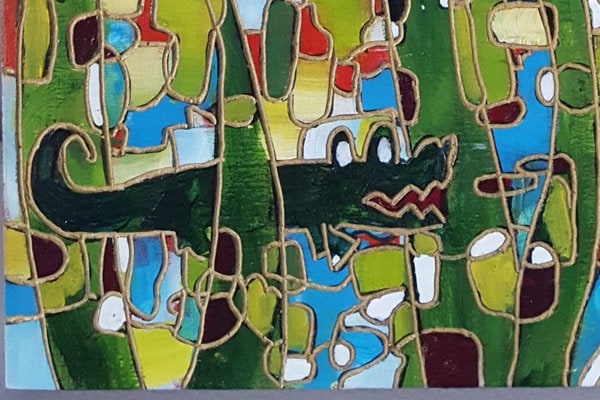 05.
Finishing up
Carved mosaic paintings get a coat or two of glossy varnish. It fills in the carved recesses nicely, and invites viewers to want to touch the painting. Or is it a sculpture?